refugees@diversity
Willkommen bei / Welcome to /Ласкаво просимо до / Добро пожаловать! ЛГБТ+ / مرحبا بكم في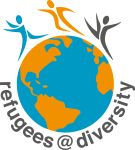 EN
Are you a lesbian, bisexual, gay or trans* person who had to flee from your homeland and are currently living in Munich? Would you like to meet up with like-minded people and find out more about what's going on in the Munich scene? If so, refugees@diversity is the place for you!
If you decide to join us, we can pair you up with a buddy who will go to events in Munich's queer scene with you. This means that you won't have to go anywhere on your own and you'll have someone at your side who can answer all your questions about queer events and organisations in and around Munich.
You can also come with your buddy to take part in the youth groups and activities offered by the Diversity Centre.
Please select your preferred language in the menu.

UA
Ви лесбіянка, бісексуальна, гей чи транс* особа, якій довелося втекти з батьківщини і зараз живете в Мюнхені? Чи хотіли б ви зустрітися з однодумцями і дізнатися більше про те, що відбувається на сцені Мюнхена? Якщо так, refugees@diversity – це місце для вас!
Якщо ви вирішите приєднатися до нас, ми можемо об'єднати вас із приятелем, який буде ходити з вами на події на квір-сцені Мюнхена. Це означає, що вам не доведеться нікуди ходити самостійно, і з вами буде хтось, хто відповість на всі ваші запитання про квір-події та організації в Мюнхені та його околицях.
Ви також можете прийти зі своїм другом, щоб взяти участь у молодіжних групах та заходах, які пропонує Центр різноманітності.
Будь ласка, виберіть потрібну мову в меню.

RU
Ты лесбиянка, бисексуал_кА), гей или трансгендер, был_а вынужден_а оставить свою родину и приехал_а в Мюнхен? Тебе хочется познакомиться здесь с такими же, как ты и поближе узнать местную квир-жизнь? Тогда сообщество refugees@diversity – это то, что тебе нужно!
С одним из наших помощников (мы называем их «бадди», Buddy) ты сможешь посетить мероприятия квир-сцены в Мюнхене. Так что тебе не придется никуда ходить одной_одному, кто-то всегда будет рядом и сможет ответить на твои вопросы о мюнхенских ЛГБТ+-организациях и предоставляемых ими возможностях.
Вместе со своим бадди ты также сможешь приходить в различные молодежные группы и посещать мероприятия, организуемые центром diversity. Выбери, пожалуйста, нужный тебе язык в меню.
Выбери нужный тебе язык в меню

AR
هل أنت مثلي؟ هل أتيت من بلدك إلى ميونخ؟هل تريد أن تتعرف على ناس بنفس تفكيرك أو هل تريد المساعدة بالتعرف على ميونخ؟ إن كانت إجابتك نعم، أهلاً وسهلاً بكم في refugees@diversity
معنا يكون لك أصدقاء يساعدونك، بحيث يكون لديك أحد عندما تكون لوحدك وبحاجة للأجابة على جميع الأسئلة حول المثليين في ميونخ.
أيضا، يمكنك زيارة مجموعات الشباب والأحداث المتنوعة معنا.
الرجاء تحديد اللغة من القائمة